"This post may contain affiliate links. Check my disclosure policy for more information"
I've not specifically noticed that I suffer from the winter blues, also known as SAD (seasonal affective disorder), but I do know it's harder than ever to get up to the dark mornings and evenings seems to last forever… it gets dark at 4pm! I'm interested to see how I feel this year with no work to get up for… was it work that MADE me get up and at it or will I notice my depression more this year? Here are my tips to overcome the winter blues.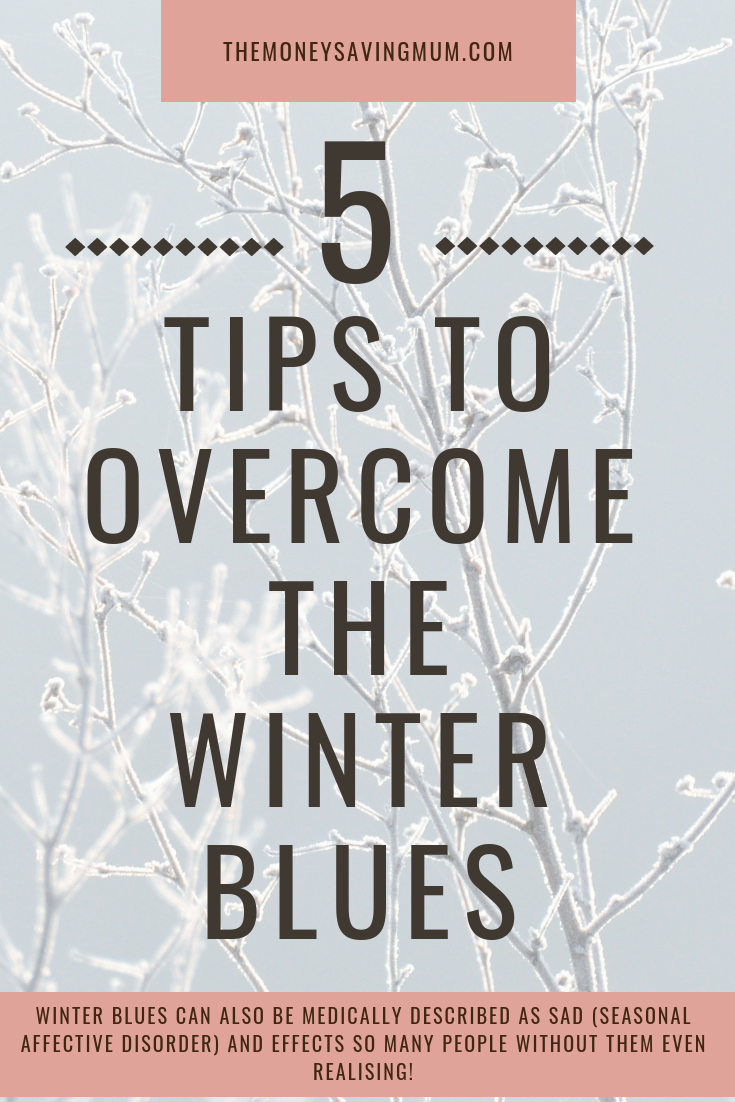 Winter blues can also be medically described as SAD (seasonal affective disorder) and effects so many people without them even realising!  It usually causing depressive states from autumn through winter with positive changes being noticed in the spring when the clocks change and the we have more light present during the day.
There are tons of tried and tested hints and tips out there that you could try should you start feeling a little low around this time of year but here are my top 5.
Last year I read (or actually listened too via Audible!) the 5 second rule by Mel Robbins. It was one of the only books I've read in along time and at a time I really needed it; it helped with my motivation massively! Instead of waking up to the alarm and snoozing it it tells you to just get up…. don't let your brain think anything other than 'get up'. I can not recommend this as a book to read before the dark mornings start creeping in.  You can grab it free with a 30 day trial of audible too!
Get out and soak up as much as the daylight while it's there as you can. Make it an aim to go out at lunch time even if it's just a 15 minute walk every single day.If you can turn that into a run then brilliant!  Exercise is said to be a excellent for those suffering with SAD.
It's also said that being conscious of your diet will help too so be sure to stock those cupboards with fruits instead of carb's or chocolate.  If they're not there you won't be tempted to just sit and eat anything you can get your hands on!
Get a hobby. Is there something you enjoy, that takes you into a world of your own and before you know it it's 2 hours later? Find something to do that will take your mind off the depressing dark evenings. Why not start a blog!?
Take a vitamin D supplement.  Vitamin D is said to improve the feeling SAD brings so next time you're shopping pick some up!  It's not a prescribed medicine, it's a vitamin and should be readily available down the medicine aisle of a supermarket.
I hope this has helped anyone who maybe needing a bit of a boost at this time of year.  If you too suffer with SAD and have any other tips to share then feel free to leave a comment down below and share with anyone you may feel would benefit from this post.
Thanks for reading!
Kirsty